August 2022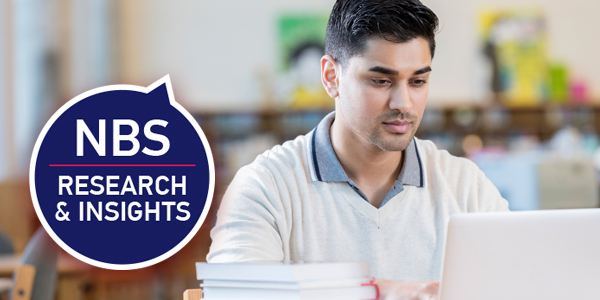 The NBS Research & Insights newsletter is an effort to demonstrate NBS thought leadership. The newsletter also aims to reflect the awards achieved and the latest research, covering a wide range of sectors and disciplines by our faculty.
Major multiyear grant for NTU team comprising NBS
Led by Prof Wen Yonggang from the CoE, NTU was recently awarded a major, multiyear US$4.256 million grant from the Algorand Centres of Excellence (ACE) Programme. This submission is a joint effort by a multi-disciplinary team from CoE, NBS, and Co-HASS, and was one of 10 winners
out of 77 applications from more than 550 participants globally.
Read more
NBS faculty at the International Researching Work & Learning Online Conference
At the 12th International Researching Work & Learning Online Conference (RWL12) held on 13 July 2022, Dr Daniel Siew presented his paper on "Being and Becoming Military Leaders: Implications for Professions, Work, and Learning". He shared the developmental process of professional military leaders and developed a grounded theory of their development to derive leadership development implications for professions, work, and learning.
Listening in on investors' thoughts and conversations
Althaf Marsoof, Hailiang Chen, and Byoung-Hyoun Hwang - Journal of Financial Economics
Humans are wired to care about how they are perceived by others. In this paper, the researchers propose that this can also end up guiding the content that investors transmit via word of mouth and cause people to inadvertently give bad advice.
Robust Pricing and Production with Information Partitioning and Adaptation
Georgia Perakis, Melvyn Sim, Qinshen Tang, and Peng Xiong - Management Science
The researchers introduce a new robust optimisation model to address a pricing and production problem in a data-driven setting using historical information.
Impressionable or Immune? On Examining The Influence of Marquee Sellers in B2B Secondary Markets for IT Products
A. Alhauli, W. Elmaghraby, and Anandasivam Gopal - Information Systems Research
Platforms are often advised to recruit "marquee" sellers help to attract other sellers and buyers to the platform, thereby enhancing the platform's value. This research shows how a marquee player helps others on the platform do well too.
Determinants of the acceptance and adoption of a digital contact tracing tool during the COVID-19 pandemic in Singapore
Zhilian Huang, Huiling Guo, Hannah Yee-Fen Lim, and Angela Chow - Epidemiology and Infection
The researchers assessed the factors and motivations governing the acceptance and adoption of Singapore's TraceTogether during the
COVID-19 pandemic.
Public perception on the use of digital contact tracing tools post COVID-19 lockdown: Sentiment analysis and opinion mining
Zhilian Huang, Evonne Tay, Dillon Wee, Huiling Guo, Hannah Yee-Fen Lim, and Angela Chow - JMIR Formative Research
Through surveys, this research sought to understand the public's knowledge of, concerns with, and sentiments on, the use of TraceTogether over time and their preferences for the type of TraceTogether tool, assisting policymakers to assess public sentiments on the implementation of Digital Contact Tracing tools.
Being and becoming beginning military leaders: Implications for leadership learning
Daniel Hoi Kok Siew and Joyce Hwee Ling Koh - Military Psychology
This study finds that leadership development for junior military officers should be a continuous learning process beyond formal program and other transient events.
Shareholder Stewardship in Asia: Functional Diversity within Superficial Formal Convergence
Alan K. Koh, Dan W. Puchniak, and Gen Goto - Global Shareholder Stewardship
This paper uses 'faux convergence' to explain why UK-style stewardship codes proliferate in Asia and its impact on comparative corporate governance.
Orchard Road evolving into lifestyle destination: Experts
The Straits Times - 31 July 2022
Adj Assoc Prof Lynda Wee says the shift towards speciality stores reflects the area's plans for tailored offerings for targeted segments of shoppers. "We are creating clear precincts to programme offerings that are more targeted at shoppers... This is in line with the new image of the Somerset vicinity as a youthful, energetic, entertainment spot," she said, likening it to Tokyo's Shibuya district where the young gather.
Wider variety of tenants crucial for Clarke Quay's success: Experts
The Straits Times - 28 July 2022
A wider variety of tenants will be crucial for the new CQ @ Clarke Quay to successfully evolve from a nightlife hot spot to a lifestyle hub, as current tenants plan offerings to attract daytime traffic.
Adj Assoc Prof Lynda Wee says artisanal and craft stores that bank on Singapore's heritage would match the area's historical riverfront environment.
The Big Read: Consumers feeling the squeeze as industry disruptors come under pressure to deliver profits
Channel News Asia - 25 July 2022
Assoc Prof Lee Boon Keng says that rising interest rates coupled with economic uncertainties make raising funds more challenging, with private equity funds probably "less tolerant of high (cash) burn-rate. This means that early-stage start-ups would have to prove their viability faster, and
late-stage disruptors will have to show
profitability sooner."
"Let's Invest Together"
The Smart Investor - 23 July 2022
To boost financial literacy, the Investment Management Association of Singapore has collaborated with National University of Singapore and Nanyang Technological University to help students better understand investing. A game called "Let's Invest Together" will tap on real data to simulate actual investment outcomes and educate participants on how to manage their investment portfolios. This game will also be featured during NBS's Career Day on 12 September 2022.
Comment: Some S'pore employers need to lose their degree obsession & hire based on skills instead
Mothership - 23 July 2022
"Skills-based hiring places an emphasis on practical knowledge, existing capabilities, and skills which an employer can test prior to an interview. Focusing on skills as a prerequisite is good for companies because it expands the talent pool where companies can find workers to fill long-empty jobs. For workers, it increases the opportunity to get good jobs because it is a more inclusive hiring approach, where there are no arbitrary exclusions due to formal educational credentials," says
Adj Assoc Prof Abel Ang.
Metaverse: Harmful hype or fantastic future?
The Straits Times - 19 July 2022
Proponents of the metaverse also believe that virtual spaces have inherent value just like how real estate is valued in the real world. The closer one is to a popular destination, the higher the value of the land. "Location, location, location. This principle seems to apply just as well in the metaverse," says Assoc Prof Damien Joseph. And what determines location: who is there, what is there, and whether people really want to be there.
Funding insurance policies with loans could prove detrimental
The Straits Times - 16 June 2022
Assoc Prof Jonas Chen says that people borrowed at rates close to the benchmark short-term rate and invested their cash in higher-yielding investments. "But this method of financing could present some challenges for policyholders given interest rates are on the rise as central banks around the world go on an aggressive drive to stamp out inflation," he says.
Cyberspace Administration of China: Illegally collecting user information to save national security hidden dangers Didi was fined 1.65 billion yuan
Lianhe Zaobao - 22 July 2022
However, Assoc Prof Deng Xin says that as a leading Internet company, the fines imposed on Didi is not large compared with the size of the company. "Didi will likely make rectifications in accordance with the country's data security requirements before proceeding to be listed in Hong Kong, setting a precedence for other Internet companies planning to list outside of China," she says.
Singapore business closures, openings in line with pre-Covid trend: analysts
The Business Times - 20 July 2022
Business formations in wholesale and retail trade have since slowed down, while firms in industries such as information and communications and finance and insurance services are still on the rise. Dr Clive Choo says that the pandemic "opened new opportunities in online businesses in 2020, such as sectors that could transact online – retail trade, F&B, logistics management, and local
last-mile delivery."
Analysis: Martha is Dead, a journey that seeks to break with the psychology of terror
Geeky - 17 July 2022
Professors Haiyang Yang and Kuangjie Zhang discuss the phenomenon of enjoyment that terror produces, explaining that we consume terror and similar phenomena on the basis that " we feel safe " because we are on the other side of the screen and that in our unconscious mind, we know that what we see is 100 per cent foreign since we are not participating. The adrenaline is high enough to generate enjoyment but not to make us fear for ourselves.
AFCAC Elects Adefunke Adeyemi as Secretary-General
Airspace Africa - 15 July 2022
The African Civil Aviation Commission confirmed the appointment of MBA alumna Adefunke Adeyemi as the new Secretary-General of the Commission. Adeyemi is a lawyer and advocate with extensive experience in regional and global strategy and policy development. She is a global air transport and trade facilitation expert focused on driving value, policy reform, best practices and international standards to air transport and related sectors, businesses, and governments.
Don't Make Rash Decisions About Your Career Now. Here's How Inflation Can Affect Singapore's Employment and Salary Market
My Careers Future - 15 July 2022
Says Assoc Prof Lee Boon Keng: "Stay in your job. The current tight market may prompt some to jump for small wage increase. However, given that no one knows when higher interest rates will cause a recession, workers don't not want to find themselves in a last-in-first-out employment situation. The important career and financial steps to take are to prepare for a monetary policy tightening-induced recession. High inflation is already here."
Can't afford to buy a house, can't get married, gamble and speculate and go bankrupt overnight, how miserable can young Koreans be?
Tencent News - 15 July 2022
"High housing prices weigh heavily on the minds of young South Koreans. Home prices in Seoul have risen nearly 93 per cent since 2017 due to a lack of supply, making it nearly impossible for young South Koreans to buy a home on their own," says
Prof Kang Jun-Koo.
Apple, Lego, Playmobil: How big brands (sometimes) "save" lives
20 Minutes - 11 July 2022
Have you ever heard someone say that a commercial brand saved his life? Through the mechanism of brand magnification by which the brand becomes a driving force in in all our lives, people can overcome crises and to get back
on their feet. This analysis was co-authored by Assoc Prof Julien Cayla.
Commodity trade should not profit from hunger
The Business Times - 6 July 2022
"A way must be found to break out of this spiralling food price rise or else the world could witness starvation on a scale not seen in living memory.
This could bring down the heavy hand of regulation and state intervention on commodity trade," says Amit Jain, Director of the NTU-SBF Centre for African Studies.
China's eateries eye JD.com's delivery plans with anxiety, hope
Al Jazeera - 4 July 2022
Prof Sharon Ng is not surprised that some restaurants are wary of the delivery platforms:
"Such apps have a positive effect of extending the restaurant's reach, especially in China whereby traffic conditions are bad, and it may be a hassle to go to a restaurant far away. However, the downside is such apps will also make competitors more accessible to a restaurant's existing market."
Articles in the attachment and broadcast clips are for reference only. They cannot be reproduced,
uploaded or linked to any public domain due to copyright reasons.
NBS College Communications collects, uses, discloses and/or processes your personal data so as to process,
administer and/or manage your relationship with us. Your personal data privacy is important to us and we are
committed to safeguarding your personal data that we may possess.