October 2022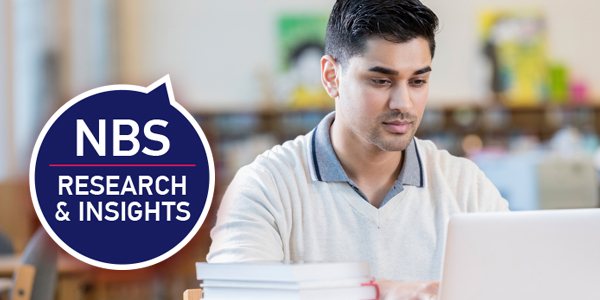 The NBS Research & Insights newsletter is an effort to demonstrate NBS thought leadership, as well as reflect the awards achieved and the latest research, covering a wide range of sectors and disciplines by our faculty.
Bapna-Ghose Social Justice Best Paper Award
Prof Anandasivam Gopal (second from left) has won the Bapna-Ghose Social Justice Best Paper Award for 2022 at the Conference on Information Systems and Technology. His paper on abortion rates and peer-to-peer funding, published in the journal "Information Systems Research" earlier this year, received the award at the Informs Annual Meeting held in Indianapolis. The award recognises for work that furthers social justice, dealing with various issues like healthcare, poverty, employment, biases, and discrimination.
Outstanding Reviewer Award
Prof Sharon Ng has received the Outstanding Reviewer Award from the Journal of Consumer Research. The JCR Awards publishes empirical, theoretical, and methodological papers of the highest quality on topics in consumer research. Awards are given to members of their own Editorial Review Board, and recipients are judged based on how constructive, benevolent, and punctual their reviews have been.
New Grant from MOE
Assoc Prof Goh Kim Huat, Lead PI (left) and Prof Christina Soh, Collaborator, have secured a grant for a project titled "Artificial Intelligence in Augmenting Medical Information Dimensionality: The Future of Work in the Medical Profession." The project presents a framework to classify the types of clinical work that can benefit from AI and propose ways to solve clinical problems. Additionally, it will examine how AI augmentation of healthcare work impacts the underlying work processes, the decision-making process of healthcare workers, and the team dynamics among physicians. The project is sponsored by the Ministry of Education.
AI Singapore grant award
Assoc Prof Georgios Christopoulos, Lead PI (left), and Assoc Prof Thomas Rockstuhl, Co-PI, have won a grant from AI Singapore for a project titled "Trust, failure and trust recovery in financial exchanges: towards a culturally intelligent, dynamic and sensing AI."
AI at the workplace grant
Asst Prof Jack Tong, Lead PI (left) and Assoc Prof Goh Kim Huat, Co-PI, have received a grant for a project titled "Trust in AI at Workplaces." The grant proposal, sponsored by AI Singapore, aims to explore how AI applications would affect human trust and productivity in the workplace, a critical business challenge faced by most firms.
Invited for web lecture by Nobel laureate
On 19 September, Dr Zhao Meng was invited by Professor Muhammad Yunus, the Nobel laureate, to give an online lecture on Social Business Research Prospects. The Yunus Social Business Center Web Lecture brings together leaders of social business thoughts and actions face to face with global business practitioners and researchers.
Guest speaker at Metaverse, NFTs and Copyright online webinar

Asst Prof Corinne Tan presented a paper on how marketplaces characterise rights in NFTs and participate in a panel discussion at the Metaverse, NFTs and Copyright webinar. The Asian Pacific Copyright Association and the Hong Kong Commercial and Maritime Law Centre, City University of Hong Kong jointly organised the session with other experts from Australia, Hong Kong, and New Zealand.
Recognition of research and standing as a leading international legal scholar

Assoc Prof Hannah Yee-Fen Lim's research publications have been cited numerous times and relied upon by the Law Commission of England and Wales in its 529-page Consultation Paper on Digital Assets. In addition, her book on Personal Data Protection Act (PDPA) was cited with approval by the Singapore Court of Appeal (CA) in its first judgment on the PDPA, and relied upon by the CA in its decision.
Critic and user reviews: How do these impact movie demand?
Asst Prof Kim Eunsoo, MengQi Ding, Xin (Shane) Wang, and Shijie Lu have published an article in the Journal of Marketing that investigates if topic consistency in content between critics and users increases movie demand and, if so, why. In this research, the authors propose movie producers and advertisers consider highlighting or inducing a central theme for critics and users to discuss, as the more review content between critics and users overlaps, the higher a movie's revenue. The study, published in the Journal of Marketing, is titled Does Topic Consistency Matter? A Study of Critic and User Reviews in the Movie Industry.
Study on assortment strategy and order fulfilment in online retail
Prof Vivek Choudhary, Sanjith Gopalakrishnan, Moksh Matta, and Mona Imanpoor Yourdshahy have published a paper titled Go Wide or Go Deep? Assortment Strategy and Order Fulfillment in Online Retail. In this study, the authors investigate how assortment expansion reduces e-retailers' on-time delivery performance; however, width expansion has a greater negative impact than depth expansion.
Research article on Corporate Social Responsibility Performance and Stakeholder Engagement: Evidence from the Quantity and Quality of CSR Disclosures
Kevin Koh (left), Heather Li, and Yen Hee Tong
The research article showcases how better CSR-performing firms issue longer CSR reports and provide incremental information in them relative to their financial reports. With increasing stakeholders demand for information on CSR performance and a growing number of firms issuing standalone CSR reports, this study examines the relation between CSR performance, and the quantity and quality of CSR disclosures.
Paper on blood supply interventions during disasters
In this study, Blood supply interventions during disasters: Efficiency measures and strategies to mitigate volatility, Assoc Prof Chua, G.A., and Juan Ramon L.Senga propose a blood supply volatility mitigation strategy during disasters that only use interventions when supply is expected to go beyond a limit. The paper examines three types of blood supply interventions during disasters: interventions related to recruitment, propensity to donate and retention, and reduction of regeneration time.
Guide to Company Law in Singapore
This book Guide to Company Law in Singapore by NBS faculty Joyce Lee Suet Lin, Victor Yeo Chuan Seng, and Navprakash Fernandez focuses on legal issues that companies and corporate participants deal with and explains the law in a practical and relevant manner.
Leaders need to master time to amp up productivity
The Business Times – 26 September
In an op-ed, NBS Senior Lecturer Dr Kumaran Rajaram recommends strategies for project managers leading a team. "High performance teams with strong track records are often swamped with work. For project managers leading such teams, one essential skill is effective time and energy management. The blissfulness in managing high performance teams as a project lead boils down to the ability to be mindful in managing energy within the limited time stipulated for the projects or tasks at hand," says Dr Rajaram.
Amid geopolitical tensions, Singapore firms take no sides
The Straits Times – 19 September
After US House Speaker Nancy Pelosi's visit to Taiwan early last month, the ensuing rise in tensions in the region became alarming. NBS Senior Lecturer Dr Clive Choo said, "the full fallout from Mrs Pelosi's visit may be felt only in the middle of next year due to the bullwhip effect or lapses as the supply chain reacts to changes in demand."
Financial institutions must stay ahead of scammers: Experts
The Sunday Times – 18 September
To tackle scams, financial institutions and companies must stay ahead of scammers. NBS Senior Lecturer Dr Yan Li, said "while the increasing amount lost to scams may have blemished Singapore's reputation as one of the safest countries in the world, it can be a huge win for the Republic if the authorities manage the situation well."
Making service great again
The Business Times – 16 September
SOS signals have shot up from the F&B sector over severe staff shortages. In this article, NBS Assoc Prof Trevor Yu shared, "candidates need to see employers actively creating career pathways, offering upskilling, and fielding good leaders who can provide staff with both job-related and emotional support as they navigate the stressful work."
Police report made against retailer over 'mystery' items sold
The Straits Times – 15 September
The police are investigating retailer "The Auction House" which offered parcels for $6 a pop containing "mystery" items at an IT fair this month. NBS Prof and Head of the Marketing Division Sharon Ng said, "the authorities can consider allowing firms to offer mystery boxes for limited durations during promotions or on a less frequent basis to reduce the risk of addiction." Adj Assoc Prof Dr Lynda Wee added, "retailers may sell mystery boxes below the regular retail prices of the items when they want to clear stock."
Medical AI is more accurate, but patients still trust human advice more
AI Business (UK) – 8 September
Scientists have discovered that people trust preventative care advice from humans more than AI-powered notifications. "Despite the potential of artificial intelligence to provide higher quality interventions, we found that people have lower trust in health interventions suggested by or derived from AI alone, as compared to those they perceive to be based on human expert opinion," said Hyeokkoo Eric Kwon, Lead Author and Asst Prof.
What makes a sustainability report that's actually worth reading?
The Business Times – 2 September
In this article, NBS Assoc Prof Kelvin Law and Rony Lim, point out that data-driven, actionable, verifiable, balanced, and accountable are crucial for writing an exemplary sustainability report. "Sustainability reporting has undoubtedly come a long way in Singapore. However, more work should be done to match the standards of topnotch reports produced in other developed markets."
Articles in the attachment and broadcast clips are for reference only. They cannot be reproduced, uploaded or linked to any public domain due to copyright reasons.

NBS College Communications | nbscomms@ntu.edu.sg | www.ntu.edu.sg/business