January 2022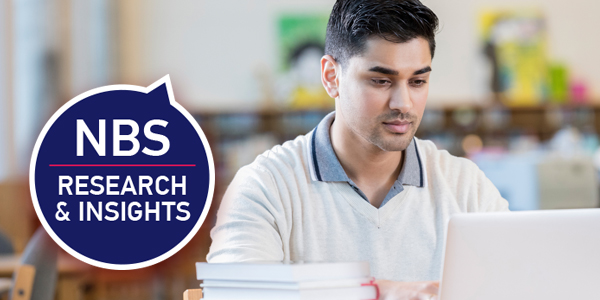 The NBS Research & Insights newsletter is an effort to demonstrate NBS thought leadership, as well as reflect the awards achieved and the latest research, covering a wide range of sectors and disciplines by our faculty.
Business Law faculty appointed as a subject matter expert for the Lexis Advance Annotated Laws
Head of Business Law division, Assoc Prof Samtani Anil was appointed as a subject matter expert in the field of information and communications technology law by LexisNexis. Annotated Laws of Singapore is a new flagship collection of legal commentary on Singapore legislation written by legal experts. These explanatory notes provide analysis to the provisions contained in each Act or statute.
Read more on Annotated Laws of Singapore...
Supply chain performance with target-oriented firms
Lucy Gongtao Chen & Qinshen Tang - Manufacturing & Service Operations Management
This research finds that a firm, be it a supplier or a retailer, is always hurt by its target-based preference but can benefit from its trading partner's target-based preference. However, since the target-based preference can be exploited by the trading partner, the firm should adopt the target-oriented decision criterion with caution.
Bank Lines of Credit as a Source of Long-term Finance
Xin Chang, Yunling Chen & Ronald Masulis - Journal of Financial and Quantitative Analysis
This research explains why firms tend to use the most long-term credit line drawdown proceeds to finance investment, especially for M&A. These drawdowns are repaid fairly quickly, often refinanced with other long-term debt – implying that long-term drawdowns are a valuable bridge financing mechanism.
A Turning Point? After decades of declines, inflation and interest rates may be on the uptrend
Joseph Cherian & Yougesh Khatri - Asia Asset Management
This paper considers the prospects for turning or inflexion points in inflation and interest rates after decades of declines. The substantial implications of such turning points for portfolios warrant serious consideration of the investment options open to asset managers. Inflation-protected securities, convertibles, and real estate may fit the bill.
The impact of the IFRS 9 expected loss approach on accounting conservatism
Clarence Goh, Chu Yeong Lim & Kevin Ow Yong - Accountancy Business and The Public Interest
Using an experimental setting, this paper examines the impact of International Financial Reporting Standard (IFRS 9) expected credit loss approach on accounting conservatism.
Migratory drivers of human capital – A case of accountancy students in Association of Southeast Asian Nations (ASEAN)
Pearpilai Jutasompakorn, Seck Tan & Lim Chu Yeong - Rangsit Journal of Social Sciences and Humanities
This study investigates migratory drivers for accountancy students within ASEAN. The findings contribute to the explanatory discourse on existing obstacles towards an aspiration of free movements of the accountancy profession with the potential to mitigate unemployment within ASEAN.
Legal monolingualism in a multilingual state: Whither bilingual legal education in Singapore?
Alan K Koh - Bilingual Study and Research: The Need and the Challenges
Law and legal education are monolingual in otherwise multilingual Singapore. This chapter explores obstacles to developing bilingual legal education.
ComfortDelGro taxi: Riding the headwinds
Boey Yew Tung & Winson Ang - The Asian Business Case Centre
This case study explores the challenges faced by incumbent ComfortDelGro Taxi due to unprecedented competition by market disruptors such as third-party ride-hailing companies like Grab and Gojek.
Back to work: How can we cope with the office?
Channel 8 - 4 Jan 2021
In this interview, Prof Boh Wai Fong discusses the pros and cons of returning to the office, from both the business and employees' perspectives. While there are merits to flexible work arrangements, she agrees that decreased 'face-time' and interaction among co-workers can erode corporate identity, resulting in less employee loyalty, and could affect opportunities for promotions and career advancements.
My lie is okay, yours is not
The Straits Times - 3 Jan 2022
According to Prof Boh Wai Fong, white lies such as "false praise" can benefit both the 'teller' and the 'hearer', even raising trust levels when told with good intent. She added that the finding that deception can increase trust is an interesting one as it challenges the prevailing assumption that deception violates trust.
Binance's exchange closure in Singapore could usher in more regulations on cryptocurrencies
Channel News Asia - 26 Dec 2021
Binance, the world's largest cryptocurrency exchange, recently withdrew its application to start a cryptocurrency exchange in Singapore. Assoc Prof Chen Tao says closing its Singapore cryptocurrency trading platform does not mean the company is losing its business in Singapore. On the contrary, Binance has anchor itself in the financial hub, acquiring an 18 per cent stake in Singapore's private securities exchange Hg Exchange (HGX).
Companies must align digitalisation, sustainability plans
The Business Times - 23 Dec 2021
Instead of keeping the digital transformation and sustainability teams separate, organisations should marry them to maximise the best payoffs in both missions. In an opinion piece, Assoc Prof Sia Siew Kien discusses how many organisations are pushing digitalisation and sustainability strategies in isolation from one another, and how there are in fact, many opportunities to address this disconnect.
The rise of volunteering amid the pandemic
CNA 938 - 22 Dec 2021
In a live interview, Ms Yap Su-Yin, Executive Director of NTU's Alumni Engagement and Annual Giving and Priscilla Gan, an NBS alumna who is now Director, Volunteer Resource Optimisation at National Council of Social Service, discuss how companies and social service agencies are finding new ways to support more strategic modes of giving, especially when the needs of the vulnerable in Singapore are growing amid the pandemic.
Entrepreneurs quicker to build trust, adapt to bad situations than non-entrepreneurs
The Straits Times - 21 Dec 2021
A study led by Prof Boh Wai Fong and Assoc Prof Georgios Christopoulos has demonstrated how entrepreneurs exhibit different behavioural traits and operate with different levels of trust when compared to non-entrepreneurs.
Work from office capacity may never hit 100% again
The Business Times - 16 Dec 2021
With the pandemic restrictions easing and the safe reopening of businesses, business owners are relieved to have staff back. However, the flexibility of working from home is also set to stay. Assoc Prof Trevor Yu discusses the challenges ahead for businesses and employees, with flexible work arrangements to continue for "progressive organisations".
The country leader for one of the biggest accounting firms in the world, Soo Hoo Khoon Yean heads up PwC Malaysia
Tatler Asia - 16 Dec 2021
NBS alumnus Soo Hoo Khoon Yean has been added to Tatler Asia's Most Influential list 2021. Soo Hoo is the managing partner of PwC Malaysia and the territory senior partner of the PwC Malaysia-Vietnam firm. With a major in accounting, Soo Hoo has led various engagements, advising some of Malaysia's largest public listed institutions and government agencies in various projects.
Sitecore recruits ByteDance talent to lead APJ
Channel Asia - 16 Dec 2021
Digital experience platform vendor Sitecore has recruited NBS alumna Joey Lim, former Asia Pacific Vice President of ByteDance's Lark subsidiary, to lead its business across Asia Pacific and Japan (APJ). Joey's appointment as Sitecore's new president for APJ is expected to strengthen its presence in the region.
China's 'buy now, pay later' market is growing – but challenges remain
CNBC online - 16 Dec 2021
A few factors are fuelling China's growing 'buy now, pay later' trend, such as unprecedented low interest rates, the rise of online payment through "super apps" like Alipay, WeChat, and extremely well-funded fintech start-ups eager to acquire new customers. In addition, China's cashless society, huge e-commerce market, mobile and online shopping habits – have all become a ubiquitous way of life in China, says Prof Boh Wai Fong.
Minor Issues: Skills, not clothes, make the man
The Straits Times - 12 Dec 2021
The rise of tech popularised the concept of business casual, where suits and ties have given way to sneakers and hoodies. Adj Assoc Prof and NBS Advisory Board member Abel Ang shares his parenting experience where he encourages his teenage boys to look beyond appearances and focus on attaining demonstrable skills that would distinguish them.
When employees feel burned out and undervalued at work, how can they be persuaded to stay?
Intellasia - 11 Dec 2021
Beyond resignations triggered by the pandemic, the general trend of reduced commitment and job loyalty is believed to continue. Assoc Prof Trevor Yu says that the decline in societal attitudes towards job-hopping and loyalty, as well as the availability of alternative forms of employment outside of the usual full-time employment model, mean we can now choose jobs that are based more on our personal interests, values, and ambition.
Chanel apologises after $1,000 advent calendar mocked on social media
The Star - 8 Dec 2021
"People attempt to use consumption to feel better about themselves after an event that makes them feel insecure about various aspects of themselves," says Asst Prof Soo Yeon Kim, explaining how the inadequacy of Chanel's over-priced advent calendar package backfired on its clients, many of whom expressed disappointment with the items inside when they unboxed it.
Knee-jerk reaction to the Omicron variant ‒ panic or discrimination?
Cape Times - 2 Dec 2021
Hastily imposed international travel bans due to the Omicron variant discovery have exposed Africa's long and painful association with disease and discrimination. Director of the NTU-SBF Centre for African Studies Amit Jain explains what lessons Africa should take from this episode.
Articles in the attachment and broadcast clips are for reference only. They cannot be reproduced, uploaded or linked to any public domain due to copyright reasons.

NBS College Communications | nbscomms@ntu.edu.sg | http://www.nbs.ntu.edu.sg