February 2022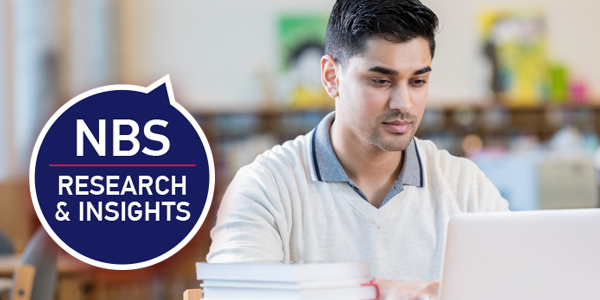 The NBS Research & Insights newsletter is an effort to demonstrate NBS thought leadership. The newsletter also aims to reflect the awards achieved and the latest research, covering a wide range of sectors and disciplines by our faculty.
NBS Banking & Finance faculty Wins Moskowitz Prize 2021
Congratulations to Asst Prof Qifei Zhu for winning the Moskowitz Prize at Northwestern University. From over 170 submitted papers, 'Corporate ESG Profiles and Investor Horizons', which was co-authored by Prof Zhu, was selected as the winner for important research in sustainable finance.
Read more...
Who is Thy Author? Recommendations to Integrate "Machine-Authored" Works into the Copyright Domain in Singapore
Samtani Anil & Abigail Lim - European Intellectual Property Review
This study seeks to recommend suitable law reforms to address copyright-related issues involving "machine-authored" works
Don's Column: Financial Statement Disaggregation
Chan-Ng Ai Lin & Kevin Koh - ISCA Journal
Using research evidence, the authors discuss the business case for companies to produce more detailed financial statements.
Turbo Motivation: Engineering Your Psychological Well-Being
Kumaran Rajaram - Candid Creation Publishing
This book aims to raise awareness of the importance of psychological well-being by understanding the motivational strategies and nuances of individuals in achieving their personal and professional goals.
Race, Gender and the US Presidency
Gemma Anne Calvert, Geoffrey Evans & Abhishek Pathak - Behavioral Sciences
Recent U.S. elections have seen increasing diversity of the political elite and heightened the importance of understanding the psychological factors influencing voter support. This study investigates the relative strength of the implicit biases for and against hypothetical presidential candidates by gender and race.
Re-Engineering Productivity: Strategies for Effective Time and Energy Management
Kumaran Rajaram - Time Mastery Lab
Energy and time management is a key competency for managerial and leadership development. The vital question is how? The discussion, strategies, and practice-oriented validated frameworks in this blog article attempt to shed some light.
Budget must address urgent foreign worker crunch but stay firm on long-term weaning
The Business Times - 4 Feb 2022
The immediate shortage of foreign labour will likely be addressed in Budget 2022, although policymakers are expected to continue weaning business off such reliance in the longer term. Assoc Prof Angie Low notes that the pandemic merely exacerbated an existing manpower shortage in industries – such as hospitality, food, and beverage – that "have always been reliant on foreign labour to plug the labour shortage and to keep cost low".
Ex-defence lawyer who aspires to be a business leader
The Straits Times - 3 Feb 2022
Nanyang Professional MBA (PMBA) participant Ng Shi Yang, always wanted to be the person making the decisions and creating the businesses, not the one writing the contracts. This led him to quit the legal sector and enrol in the NBS PMBA programme.
Dr Lynda Wee on keeping heartland shops relevant amid rise in online shopping
CNA Singapore Tonight - 3 Feb 2022
The Singapore Government has launched an online survey to gather views on how to rejuvenate shops in the heartlands. The survey comes as Singaporeans are increasingly going online to fulfil their shopping needs. Dr Lynda Wee says that schemes like the CDC vouchers for use at heartland shops are probably a short-term solution. Retailers still need to adapt, understand the community, and digitise.
Sparkling or still: It depends on the brand name
WARC Exclusive - Jan 2022
Prof Gemma Calvert and her co-authors examine how carbonated drink brands can utilise sound symbolism to help them stand out from the competition in an increasingly saturated beverage market.
The Great Singapore Resignation: Fact or myth?
The Straits Times - 30 Jan 2022
Manpower experts say turnover rates are likely to rise this year if the economy continues to recover. Prof Boh Wai Fong adds that there is pent-up demand for a change in job, which was generated over the past one or two years while employees were waiting for the pandemic to abate.
Me and My Money: Surfing e-commerce wave with his business while holding onto safe investments
The Straits Times - 30 Jan 2022
NBS alumnus Ivan Ong, Co-ounder and Chief Executive of baby and maternity brand KeaBabies, says pairing the risky business of starting your own firm with passive investments keeps the right balance.
Stay or go? Quest for better quality of life pushing some to rethink priorities
The Straits Times - 30 Jan 2022
The average monthly resignation rate for professionals, managers, executives, and technicians crept up to a seven-year high of 1.5 per cent in the third quarter last year. Prof Boh Wai Fong says employees who were hired during the pandemic have very little attachment to their employer, as they may have never met their boss in person or stepped into their company offices.
NTU scientists develop computer programme that can detect those at higher risk of depression
The Straits Times - 24 Jan 2022
Researchers from NTU have developed a way to analyse data from wearable technology like Fitbit and other devices to help detect individuals with an increased risk of depression. Assoc Prof Georgios Christopoulos who co-led the study, says the team will also be working on how to detect other types of psychological statuses and the possibility of personalising such a function in future.
Plastic bags at shops and supermarkets should be charged per bag rather than per customer
CNA Online - 22 Jan 2022
Working towards a more sustainable approach, local grocery retailer FairPrice recently imposed a plastic bag charge to discourage consumers from excessive plastic usage. Following their lead, retail store BHG Singapore announced a similar per transaction fee for the use of plastic bags. Asst Prof Zhang Kuangjie shares his thoughts on this move towards sustainability and whether it encourages consumers to use eco-friendly carrier options in the long run.
It's perfectly OK if work isn't your true meaning in life, says S'porean CEO
Mothership - 22 Jan 2022
Writing for Mothership's Lessons on Leadership series, which aims to inspire the next generation of Singaporeans through the stories of local business leaders and entrepreneurs, Adj Assoc Prof and NBS Advisory Board member Abel Ang shares his reflection on finding meaning in life and work.
Industry players say ad ban not the only way to protect retail investors in Singapore
CNA Online - 21 Jan 2022
Monetary Authority of Singapore announced the prohibition of cryptocurrency trading service providers to take up public advertisements and engaging third parties for advertising purposes. Assoc Prof Chen Tao says Crypto has been vigorously promoting its cryptocurrency services and that the firm's tagline "Fortune Favours the Brave" is misleading, because it encourages investors to trade without informing them of potential risks.
Fintech Stacs wants to make ESG tracking easier for SMEs
The Business Times - 21 Jan 2022
NBS alumnus Benjamin Soh, Co-founder and Managing Director of Fintech start-up HashStacs says the company can help small and medium enterprises access green loans, as well as help lenders monitor their progress.
A bump in the road for cryptocurrencies?
CNA Singapore Today - 20 Jan 2022
To what extent does Singapore remain "crypto-friendly"? In a 'live' interview, Prof Boh Wai Fong discusses why cryptocurrencies cannot yet be considered money and the risk digital payment tokens carry.
Assoc Prof Hannah Yee-Fen Lim on safeguards for digital banking
CNA Singapore Tonight - 19 Jan 2022
Safeguards for digital banking have been announced after a recent spate of scams targeting bank customers. Assoc Prof Hannah Yee-Fen Lim says that while these measures go some way in mitigating scams, they are not completely fool-proof and they do not address incident handling. She added that banks need to relook the assumption that their customers all prefer convenience over security, because there are many who do not.
How this second-gen boss is taking her old-school family business into the digital age
The Straits Times - 18 Jan 2022
Charting a new course in the traditional marine industry requires young blood, robots, and conquering the fear of change. NBS alumna Bay Yanming, CEO of Safety Innovators, knew change was inevitable in preparing her family's ship supply business for the future.
How this CEO is helping students in need achieve their ambitions
The Business Times - 18 Jan 2022
Giving back has always been top of mind for accounting firm Nexia TS' group chief executive and chief innovation officer Henry Tan, who is an NBS alumnus. Henry is paying it forward by offering scholarships and bursaries to students in need, helping them uncover their full potential
Graduation ceremonies and degree scrolls. In: Just-in time learning and skills certificates
CNA Asia Today - 17 Jan 2022
NTU alumnus Jake Tan, Director and CTO of Serial Communications realised that big dreams and enthusiasm alone aren't enough to get a start-up off the ground. In a 'live' interview, Jake shares why he returned to NTU and enrolled himself into the NBS FlexiMasters in General Management.
So near yet so far: A Singapore family travels to Kuala Lumpur after two years
The Straits Times - 10 Jan 2022
The last time Adj Assoc Prof and NBS Advisory Board member Abel Ang travelled to Malaysia was in March 2020. In this article, he wistfully reflects upon how much we take for granted, particularly the easy access to neighbouring countries.
3 ways to invest in yourself in 2022
The Straits Times - 9 Jan 2022
It may not be easy to meet new people during a pandemic, but networking is as important as ever. Even with some degree of remote working, you should be more aware of the need to amplify your personal brand to avoid being "out of sight, out of mind", says lecturer Mr Roger Pua, a former senior director for communications at LinkedIn.
What a hot pink hairdryer can teach us about reinventing our lives
The Straits Times - 9 Jan 2022
Adj Assoc Prof and NBS Advisory Board member Abel Ang muses about on the lessons a reinvented hairdryer can teach us when rethinking our life and work priorities.
Women in GovTech Special Report 2021
GovInsider - 16 Dec 2021
NBS alumna Lorraine Ong was listed in the Women in GovTech Special Report 2021. As the Assistant Director for Advanced Cybersecurity Capabilities, Lorraine develops and manages central programmes and products that serve government agencies as well as citizens. In 2020, she won the "Transformational Leader of Year 2020" award at the Women In IT Award for Asia. She was also included in the "Singapore 100 Women In Tech 2021" award.
Articles in the attachment and broadcast clips are for reference only. They cannot be reproduced,
uploaded or linked to any public domain due to copyright reasons.
NBS College Communications collects, uses, discloses and/or processes your personal data so as to process,
administer and/or manage your relationship with us. Your personal data privacy is important to us and we are
committed to safeguarding your personal data that we may possess.