"Sustained Profitable Growth in Emerging Markets"

Profitable growth is a term in good currency. After all, a firm that consistently posts high profits over an extended period has been the gold standard in both developed and emerging markets.

The emerging market strategy for multinational companies (MNCs) has been the well-weathered mantra: enter large and relatively untapped mass consumption markets, recalibrate products to make them more affordable for these targeted segments, capitalize on economies of scale and scope, develop formidable supply chains to assure efficient distribution, and unleash the full power of a business model geared towards achieving market dominance and reaping high profits over time.

But, this traditional strategy has not been effective as of late, at least for MNCs in Asian emerging markets. Among the key problems include stronger local competition, difficulty in scaling up operations, unanticipated reactions by targeted consumers, overcoming the high transaction costs and high costs of securing proper logistics and distribution – all of which were underestimated by erstwhile entrants into emerging markets. While established leaders with deep-seated resources and strategic savvy have been able to surmount these difficulties, most others have failed.

Clearly a new business model is needed, but what type of model?

This study is based on in-depth field interviews and a survey of 253 MNCs in 10 Asian emerging markets conducted under the auspices of a collaborative EY team and the Economist Intelligence Unit. Prof. Park will discuss the pitfalls of traditional scaling methods and present a framework for a different type of profitable growth- "scaling the tail." By extending more recent advances in value-distribution, in which peripheral sales (those in the "tail") outnumber traditional mass-sales (those in the center of any distribution).

Prof. Park's study provides fine-grained insights into how firms in the consumer goods and retailing sectors in emerging markets focus on specialized market niches using high-end brands, flanking particular segments and product-categories, developing deeply nuanced localization strategies, and installing supportive management systems.



DATE, DAY
16 October 2017, Monday

TIME
3:00p.m. – 5:00p.m.
(Registration starts from 2:30pm)

VENUE
Maxwell Chambers
Henderson Room, Level 3
32 Maxwell Road, #03-01
Singapore 069115
About the Speaker:
Dr. Park is Parkland Chair Professor of Strategy, Department Chair of Strategy and Entrepreneurship and Director of CEIBS Research Centre for Emerging Market Studies at CEIBS. He is the former President of SKOLKOVO-Ernst & Young Institute for Emerging Market Studies and Chair Professor of Strategy at Moscow School of Management Skolkovo.

He was also the founding president of Samsung Economic Research Institute China and a former member of the Academic Council at CEIBS. Prior to his move to China, he was Professor of Strategy at Rutgers, the State University of New Jersey, where he received several teaching and research awards and had early promotions to associate and full professorship. He taught and served on the faculty at the University of Texas at Dallas and Hong Kong University of Science and Technology.

He is a Fellow of the Academy of International Business and the recipient of the Academy of Management IM Division's Outstanding Service to the Global Community Award. He received that recognition in 2015 for his outstanding service to the international community in bridging the areas of research, practice and policy in his work on emerging markets.

For more information, please contact us:
Institute on Asian Consumer Insight
Nanyang Technological University, Nanyang Business School,
50 Nanyang Avenue, Blk S4, level B4, Singapore 639798
Tel: +65 6790 4966
Email: aci-institute@ntu.edu.sg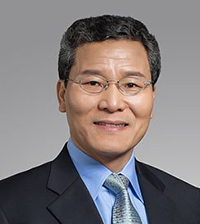 Dr. Sam Park
Professor of Strategy;
Parkland Chair Professor of Strategy;
Department Chair (Strategy and Entrepreneurship);
Director of CEIBS Research Centre for Emerging Market Studies
China Europe International Business School