"Building Strong Brands"

What makes a brand strong? More importantly, how can you make your brand strong?
In this Executive Seminar, join Michel Pham, Kravis Professor of Marketing at Columbia University as he helps us understand what separates strong brands from weaker ones, and share with us about why a brand's strength lies in specific aspects of customer motivations.
The session will also touch on the framework for building strong brands and Prof Pham will discuss on how to strengthen one's brand identity along five brand positioning principles. In addition, he will also examine issues of brand identity implementation using brand names, logos, slogans, and impact applications.



DATE, DAY
25 July 2017, Tuesday

TIME
2:30pm – 4:30pm (Registration from 2pm onwards)

VENUE
NTUC Centre
1 Marina Boulevard
Singapore 018989
Room 702, Level 7
About the Speaker:
Michel Tuan Pham is the Kravis Professor of Business in Marketing at Columbia University's Graduate School of Business, where he is also the Research Director of the Center for Global Brand Leadership. A leading expert on emotions and consumer psychology, and ACI Fellow, he is the author of more than 40 widely cited articles in journals such as the Journal of Consumer Research, Journal of Marketing Research, Psychological Science, Organizational Behavior and Human Decision Processes, Journal of Consumer Psychology, International Journal of Research in Marketing , and Personality and Social Psychology Review.

Professor Pham's expertise and consulting activities are in the areas of marketing and branding strategy, customer insight and consumer psychology, trademark psychology, and the psychology of decision-making. An internationally acclaimed executive teacher, he has led seminars on these topics for executives around the worlds. Recent training and consulting clients include Bayer Healthcare, Adidas, Brighton Collectibles, The Walt Disney Company, Bath & Body Work, Federal Home Loan Bank of New York, Coca-Cola, DNAinfo, Gucci, and Singapore Airlines. His research and comments on current business issues have been widely publicized, including in the New York Times, Wall Street Journal, the Los Angeles Times, the Economist, Forbes, BBC's World Business Report, and CNN's Headline News.

He has a Licentiate degree in Applied Economics from the Catholic University of Louvain-Mons in Belgium and M.A. and Ph.D. degrees in Business-Administration/Marketing from the University of Florida, Gainesville. He is a past President of the Society for Consumer Psychology, which recently named him a Fellow—the Society's highest distinction—"For Outstanding Contributions to the Field of Consumer Psychology."

For more information, please contact us:
Institute on Asian Consumer Insight
Nanyang Technological University, Nanyang Business School,
50 Nanyang Avenue, Blk S4, level B4, Singapore 639798
Tel: +65 6790 4966
Email: aci-institute@ntu.edu.sg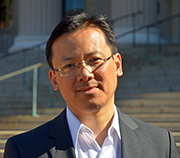 Michel Tuan Pham
Kravis Professor of Business
Graduate School of Business
Columbia University