"(I'm) Happy to Help (You):The Impact of Personal Pronoun Use in Customer-Firm Interactions"

In responding to customer questions or complaints, should firm agents linguistically "put the customer first"? Customer orientation theory, managerial sources, and surveys of managers, service representatives, and consumers suggest that firm agents in this setting should emphasize how "we" (the firm) serve "you" (the customer), while de-emphasizing "I" (the firm agent). We find evidence of this language pattern at over 40 firms. However, we theorize and demonstrate that these personal pronoun emphases may be sub-optimal. Eight studies using lab experiments and field data reveal that relative to plural self-referencing ("we") pronouns, singular self-referencing ("I") pronouns enhance perceptions that the firm agent feels (empathy) and acts (agency) on the customer's behalf, increasing customers' satisfaction, purchase intentions, and actual purchase behavior. Further, and contrary to lay predictions, we show that customer-referencing ("you") pronouns have little impact on customer outcomes, and can sometimes have negative consequences. These findings enhance our conceptual understanding of how language impacts social perceptions and provide valuable insights for marketers.



DATE, DAY
27 April 2017, Thursday

TIME
2:30p.m. – 4:00p.m.

VENUE
ACI Seminar Room 1
Block S4-B5, Nanyang Avenue
Nanyang Technological University
Singapore 639798
About the Speaker:
Brent McFerran is W.J. VanDusen Associate Professor of Marketing at Simon Fraser University's Beedie School of Business. He received his Ph.D. (2009) from University of British Columbia. He was previously on faculty at University of Michigan (2010-13) and UBC-Okanagan (2009-10). His research examines social influences in consumption, moral psychology, and prosocial behavior. Brent's work has appeared in leading outlets in both marketing and psychology, including Journal of Consumer Research, Journal of Marketing Research, Journal of Consumer Psychology, Journal of Personality and Social Psychology, and Psychological Science. He was awarded the Society for Consumer Psychology (APA Division 23) Early Career Award this year, and hundreds of major media outlets on six continents have featured his work.

For more information, please contact us:
Institute on Asian Consumer Insight
Nanyang Technological University, Nanyang Business School,
50 Nanyang Avenue, Blk S4, level B4, Singapore 639798
Tel: +65 6790 4966
Email: aci-institute@ntu.edu.sg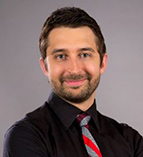 Brent McFerran
W.J. VanDusen Associate Professor of Marketing
Beedie School of Business
Simon Fraser University
Canada