"The Rise and Fall of Mega E-Commerce Markets:
Online Shoppers in South Korea and China"

The online shopping craze in South Korea has been ongoing for nearly 20 years, but in China, it is experiencing tremendous growth with 64 million additional shoppers per year! The number of online consumers in China is expected to grow by 19.6 percent per annum, with Chinese online retail sales hitting USD 752 billion in 2016.
While market penetration for first and second tier Chinese cities is ever increasing, the third and fourth tier cities and rural China are expected to be even more lucrative. Conversely, the South Korean online market is nearing saturation. Its e-commerce sales growth dropped from fourth to seventh place globally.
This saturation is largely due to a fragmented market structure, declining growth rate, and lower profit margins. E-commerce businesses have responded by exploring new business models and expanding their presence into SE Asia. Would SE Asia's shoppers likely take the lead in online shopping? Should businesses still tap into China or South Korea?



DATE, DAY
12 May 2017, Friday

TIME
2:00p.m. – 3:30p.m.

VENUE
ACI Seminar Room 1
Block S4, B5 Nanyang Avenue, Singapore 639798
About the Speaker:
Adrian Kuah is Associate Professor at James Cook University and Senior Fellow of the Cairns Institute. Previously, he was the MBA Director at Nottingham Business School and UG Director at Bradford University in the UK.
Over the years, he has lectured at leading AACSB business schools, including Harvard, Manchester, Bradford, Fudan, Grenoble, NUS and TiasNIMBAS. His academic experience is coupled with substantive experience at Fortune 500 companies such as AT&T, Silicon Systems, and the Singapore Government.
Professor Kuah has been investigating global business systems across Europe and Asia for 17 years. His recent work covers the circular economy, clusters, and fast expanding markets published in the Oxford University Press, Thunderbird International Business Review, European Journal of Marketing, and European Business Review. He read his PhD from Manchester, ITP from Bocconi, MBA from Strathclyde and BEng from NTU. In 2013, he was featured in the UK Financial Times as Professor of the Week.

For more information, please contact us:
Institute on Asian Consumer Insight
Nanyang Technological University, Nanyang Business School,
50 Nanyang Avenue, Blk S4, level B4, Singapore 639798
Tel: +65 6790 4966
Email: aci-institute@ntu.edu.sg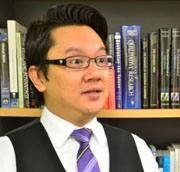 Adrian Kuah
Associate Professor
James Cook University